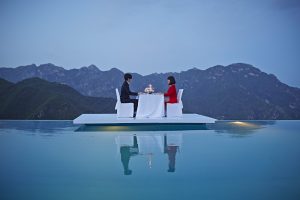 7 Essential First Date Questions
Congratulations! You're about to go on a first date with someone you find attractive…
Congratulations! You're about to go on a first date with someone you find attractive. So, how do you deal with it? First dates are understandably stressful for both individuals involved, but more for men because the burden of planning the date and keeping things interesting mostly lies in your hands. The first thing to remember is to refrain from going somewhere where you can have a good conversation, like a movie or a concert. The first date is your chance to get to know a girl better, so you should choose a setting that is ripe for conversation or possibly get ideas from elite dating agency.
Now, because we are on the subject of the first date conversation, you have an idea of what to say, right? After all, there are few things more than an awkward conversation on a first date. Sometimes this kind of clumsiness can mean that there is simply no connection between you and your date, but most of the time it comes from unprepared with some good icebreakers to start with. Here are seven essential first date questions that are sure to keep things interesting, without being intrusive recommended by one of the best elite dating agencies based in Europe.
1. Background
Of course, an essential part of getting to know your date is learning a little background information. This does not mean you question her. Rather, ask about an integral part of her history such as the place where she grew up. If you do not know the answer, you can start by asking her where she's from. Your date might consider this question a cliché and expect you to ask for the importance of the issue, so surprise her by using it instead to provide a good segue into a conversation about her growing up years. Listen to someone talk about where they grew up, how they grew up, what their family looks like, and what were their childhood interests is a great way to learn about what kind of person they are.
2. High School
Almost everyone loves retrieving memories of high school, and this can be a fun topic to talk about, especially if it happened a while ago. It will allow you to see how your date is changed through the years and may even reveal some interesting things about her. A good way of bringing up the subject is to ask this kind of question: "So, back in high school, you were the prom queen, the nerd, or the strange girl who does not talk to anyone but herself? This question does not only get the conversation flowing but also shows your funny side, a plus with some girl.
3. What are your Hobbies and Interests?
Questions about hobbies and interests of your date are one of essential first date questions that will help you plan your next date, if and when they happen. Again, ask about hobbies sounds cliché, but it can show the perfect opportunity for you to show your date that you are a good listener and that you are interested in her as a person, not just for a one night stand. Learning about her interests will also give an idea of what her plans are for the future and help you decide whether there is potential for the relationship to grow or not.
4. What do you think is the greatest mistake men/women in their relationships?
The answer to this question will show what sets him/her off about people and what are his /her conceptions about men and women are.
5. What are the qualities of your ideal relationship?
This is one of the great questions on a first date. Men and women reveal what they want in life, what kind of relationships they expect from each other and the marriages they that dream of.
6. Have you ever been heartbroken?
The more attractive/defensive person, the more likely the answer will be 'No'. But a majority of honest people will say 'Yes.' This unveils their humility.
7. What is the kind of relationship you are looking for and why?
According to some elite dating agency, this is the most important question to ask on a first date. When prompted, it is there, making it clear for what you get. You put your profile on the dating site. In your profile, you clearly state that you are looking for a committed relationship. Now when you meet someone who is positive, you have the big question slap-bang in the conversation. Your tone should not be confrontational or exploratory. After you get the answer, you need to double-check by enquiring, why?
These are essential questions on the first date because you do not want to go on a boat ride with both of you rowing in opposite directions.