The Casina – a beautiful luxury villa near Siena in Tuscany
We visit The Casina, a beautiful luxury villa near Siena in Tuscany. Only 15 minutes from the city of Siena but in perfect peace and tranquillity, The Casina is a true escape for couples or close friends. A meandering private driveway takes you through beautiful olive groves to arrive at the stunning 12th
We visit The Casina, a beautiful luxury villa near Siena in Tuscany.
Only 15 minutes from the city of Siena but in perfect peace and tranquillity, The Casina is a true escape for couples or close friends.
A meandering private driveway takes you through beautiful olive groves to arrive at the stunning 12th century watchtower that has been lovingly restored to its current glory.
The Casina exudes romance from every corner, and as such, is designed specifically for couples, although it could easily accommodate 4 (and it has two bathrooms).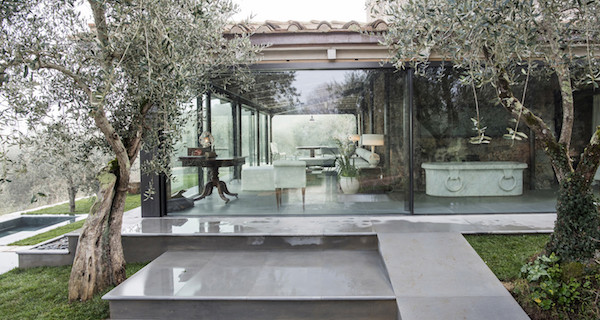 The large ground floor area has been beautifully designed with high quality materials and furniture.
Wooden beams and original stone walls add character, but the scene stealer here is the floor to ceiling windows with 270 degree views of the glorious Tuscan landscape – truly breathtaking.
Head upstairs one level to a sitting room with Sky TV (there's also wifi throughout) where you can really feel the history of the building; climb one more level and you'll reach the bedroom with en-suite bathroom.
How romantic to lie in bed cocooned in the original watchtower with the windows open with the Tuscan landscape as a backdrop.
While the property is designed for couples, there is a day bed downstairs and the library area can be turned into an additional bed, but both without full privacy.
There is also a full bathroom with shower on the ground floor, and the property is fully air conditioned throughout.
The best part for me, however, was sitting outside next to the oxygen-cleaned pool (which also has a 'fastlane' counter-current swim machine) with nothing but rolling hills of Cypress tress and olive groves to distract you.
You could, of course, take the hybrid bicycles for a ride, or sit in the outdoor hot tub, or use the indoor steam room or explore the neighbouring papal palaces and baroque churches.
The Casina is a beautiful property that captures the essence of its surroundings and strikes a balance between its historic past and current state as a luxurious house.
For further information visit The Casina website or contact Macbeth