Feeling lonely in a marriage: what to do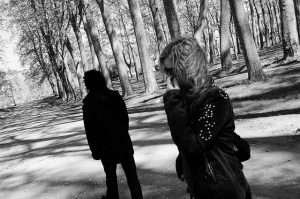 Enquire Now to start your love finding journey TODAY
Enquiry form
Or you prefer rather to call?
+41 22 900 11 28
All enquiries will be handled in the strictest confidence.
Feeling lonely in a marriage: what to do
Helping people who are dating at 40 has given our matchmaking agency insight into some of the most relevant problems that affect the romantic lives of middle-aged people. One of the most serious ones has to do with feeling lonely in a relationship.
When we think about loneliness we don't particularly picture people who are in committed relationships, but though it is not an ideal scenario, feeling lonely in a marriage is completely possible as it is mostly unrelated to physical proximity. Rather, it is linked to the way someone feels about the connection itself –as if it is weaker than before or simply gone.
Tips to try to revert the loneliness
In any case, this is an undesirable situation that can deteriorate and negatively impact any relationship if it is disregarded. But if there is willingness to work things out, this issue can be reverted and the couple can go back to enjoying each other.
There are a number of reasons why this may happen, from problems pertaining to the relationship itself, to individual issues that could be affecting one of the partners.
If you happen to be feeling this way, it is essential to communicate and to bring up the issue to your partner, since they might be oblivious to your experience within the relationship. This is the first step to mend things, but it does not end in mere words.
Tip 1: Re-find yourselves
Often when people feel lonely in a relationship, it can be due to the couple losing themselves in the routines they have established for their lives, especially when it comes to married couples. It is important to remember that you built this life to live it together, and that the connection you created has to be nurtured for everything else to function properly.
Spending quality time together is the very first option you should turn to, since it could help revive old, forgotten feelings. Making time for each other to try doing things you used to do before, or even adopting a new hobby, could be beneficial for you.
Tip 2: Try professional help
Sometimes the problems within a couple are harder to solve than we think, mainly because there might be deeper wounds that are being overlooked because most people lack the tools needed to recognize and fix them.
Luckily, couple counseling was created to help people who have these difficulties, bringing a mediator to the discussions and giving the partners a safe space where they can open up and talk about what is wrong.
A therapist or counselor can help you get to the bottom of this feeling of loneliness that is hurting the couple, so look into this option if you feel like you need more help.
Tip 3: Establish your expectations
Communicating what you feel and making these efforts has to lead to structural changes. Make sure to establish what you would like to see come out of all of this work that you are going to go through as a couple.
This means that you should be clear on what changes you expect from your partner, and you should be able to tell them so that they can work towards that. Keeping these expectations in mind can also help you continue if you realize, after all, that there will not be long-term changes, and that maybe it is time to end things.
When you are ready, so is Macbeth
We understand how difficult it can be to open up to new people and the fear of falling into the same cycles again. After a marriage or a relationship did not work, the first thing you should be focusing on is on healing.
But once you feel like you are ready to move on, allow our professional matchmakers at Macbeth Matchmaking, help you get exactly what you want and need.
They will be glad to find someone that matches your life vision and with whom you might establish a connection that lasts.
Contact us and restart your love finding journey today!
Recommended services